Why was my bank mandate rejected? What should I do now?
Your bank may reject your mandate for several reasons, but the most common reason is either because of a signature mismatch between the mandate form and what your bank has on it's records, or because of not receiving a clear picture of the mandate form from you. In case of rejection, you will need to restart your mandate process with a new mandate number. Please contact customer support in case you have any issues with the same.

A sample illustration of a correctly filled out bank mandate form is shown below. You only need to sign in the same area as the red box in the image below, and upload a clear picture of your signed form through the app.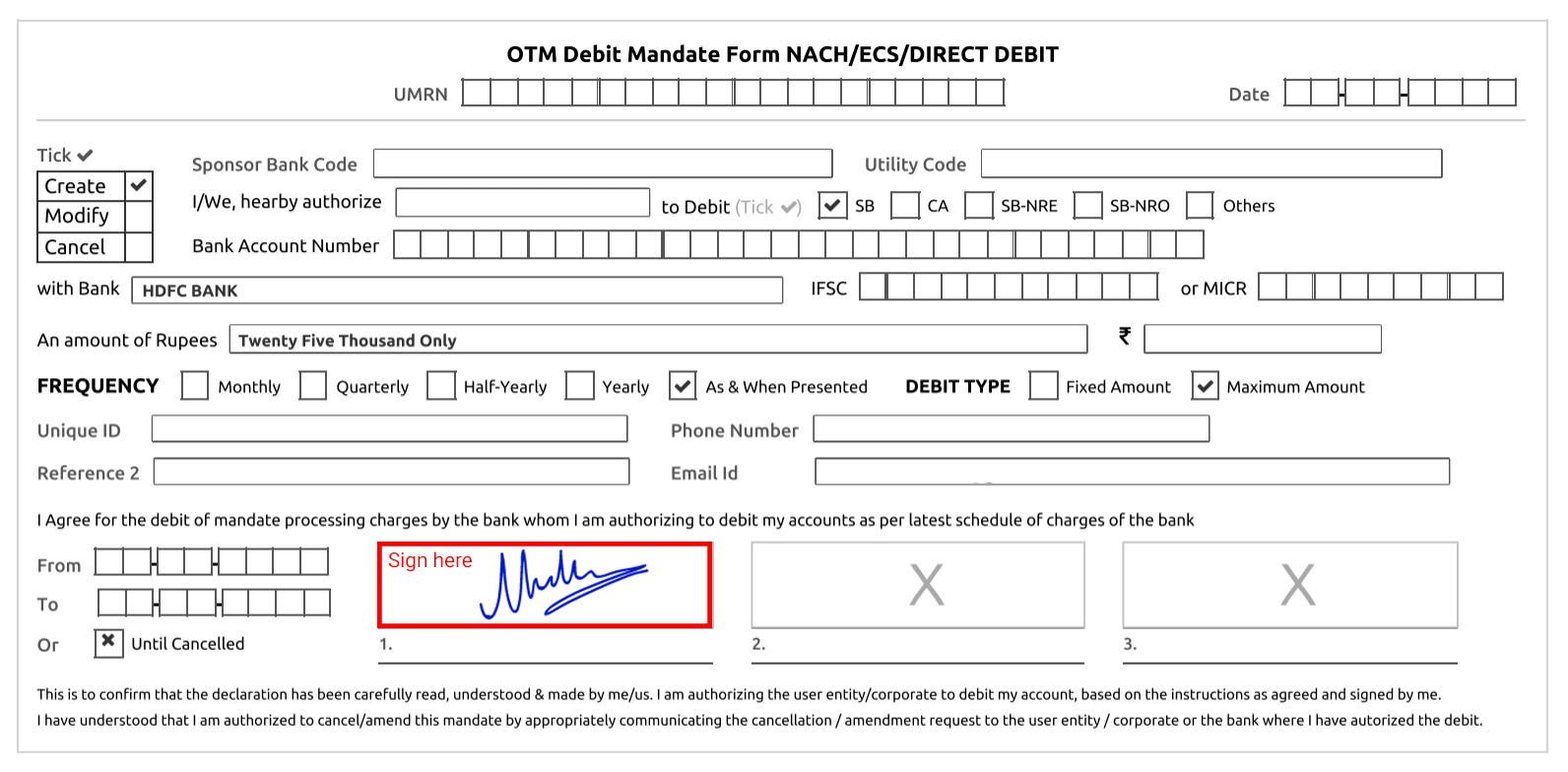 Sample Signed Mandate Form

We sincerely request you to ensure the signature is as per your bank records, and that you are submitting a clear picture of the form, to avoid any further delays in setting up your mandate.
Related Articles

How do I modify the bank mandate submitted to you?

Currently, we do not support modification of your bank mandate through the app. Please contact customer support to modify your bank mandate.

How can I trust you not to misuse my mandate, bank account and other information?

Your bank mandate is a detailed and binding legal document which authorises us to do tasks only as per your instructions. We cannot do anything else outside of your authorised instructions nor will your bank allow for any unauthorised transaction to ...

Are there any charges for a bank mandate?

At Glide Invest, we do NOT charge anything for registering or using your bank mandate, but your bank may impose a fee for registering the mandate. You may contact your bank for further details.

What is a bank mandate? Why is it needed?

A bank mandate is an authorised document submitted by you, the account holder, to your bank to authorise Glide Invest to transfer money from your bank account to the bank account of the Mutual Funds based on the orders placed by you. This transfer is ...

What is the difference between eMandate and paper-based Mandate?

There are 2 methods of getting your mandate approved through our application: eMandate (or electronic Mandate): this mandate is setup using your Netbanking or Debit Card through your bank's website. It takes about 5-7 working days for your bank to ...